Nestled in the southeastern corner of Massachusetts, Cape Cod is a magical land of fudge, dance clubs, lobster rolls and beaches. It's about 340 square miles in area, which is about 5.5 Martha's Vineyards for scale.
It can be overwhelming to visit an area with so much going on, so to make it easier, we data-mined a year's worth of Instagram posts that were geo-tagged on Cape Cod and tallied up how many times photos were taken at various locations. The result is 69 nice, photogenic places that have been deemed by both locals and tourists to be the most of note.
This article completes our trifecta of Most-Instagrammed Posts between Martha's Vineyard and Nantucket. Since it's such a large area, we had to interview six authentic Cape Cod locals to cover everything. Their full bios are listed down at the bottom of the article.
We've also done articles on the most-Googled hikes in Massachusetts, New Hampshire, Rhode Island and Maine!
Our local experts:
Tara Murphy, Cape Cod African Dance and Drumming
Chris Lynch, Instagrammer known as Chezpics66 who stages elaborate Marwencol-style photos with Star Wars figures on Cape Cod beaches
Bill DeSousa, DeMa Public Relations and PR representative of the Cape Cod Chamber of Commerce
Amy Leonardi, Cape Cod Moms
Jackie Driscoll, Human Resources Business Partner at Synder's-Lance Inc's Cape Cod Potato Chip plant
Jeffrey Morgan, Ocean Protection Advocacy Kids
8998 photos
Amy: That's probably one of the most iconic places on the Cape. You can walk out during low tide, and there's a lot of entertainment going on.
Bill: The breakwater goes from across Provincetown harbor from the West End, all the way over to Wood End Light. It's about 1.25 miles or so, the rocks are pretty craggy, they get wet and slippery. It can be a dangerous walk, but I love that walk. I like to stay at the Land's End Inn with take my camera, and do some shooting here because the morning light is so beautiful. I would recommend good sturdy shoes for this walk!
4701 photos
Amy: That's a very nice beach in Dennis. I've been there a handful of times, it's one of the most popular beaches. Great beach for families with lots of tidal pools and no waves.
Bill: It's right next to the Aquaculture Research Corporation. Anyone that does any kind of shell fishing, they get their seed oysters and clams from there. The water goes out quite far on the at low tide, and you can walk out very far into Cape Cod Bay with ankle-deep water. Kids can walk around, looking for seashells. hermit crabs and fish.
3702 photos
Amy: That's a really good place to go get a cocktail or for date night. I've gone there a handful of times, it's always a special occasion.
Jeffrey: Great upscale resort on the Cape. OPAK runs programs there once a week for their children's program. It's a nice community organization as well. They try to work with people like us.
Bill: Probably one of the most well-known properties on the Cape. The lobby is quite grand; it's reminiscent of the Great Gatsby. It's got beautiful dark wood, a very grand staircase. Over the past 20 years or so, they've built cottages with suites down on the water. They've also added a spa and a vegetable farm. They offer clambakes, which are new, and farm to table dinners. It's probably the most requested property on the entire cape.
2598 photos
Bill: It's quite grand, they've added quite a lot of beautiful outdoor space. We always hope they'll extend their season all year.
2459 photos
Jeffrey: Best view on Cape Cod.
Bill: It's an active lighthouse located on the grounds of an active Coast Guard station, so you can't really visit the light. It's very beautiful, not the typical lighthouse build, it's a different shape. It overlooks lighthouse beach. That part of the cape has many offshore shoals, so it's one of the more important lighthouses navigationally on the cape.
Tara: I have a huge connection to that; my husband and I have spent quite a lot of time there. We actually lived in Chatham for a long time. It's one of our favorite beaches hands down on the Cape. It's gorgeous, and I love the way that it's always shifting; the sand bar is constantly shifting, and every summer it looks different because there are storms during the fall and winter that break it in various ways. You see the power of nature, and how nature has her say with the beach. There is a colony of seals there that makes it particularly magical. Also, my mom was visiting, and they have different signs up on the lighthouse, and that day it said "Danger Bar." But my mom, being a NYC kind of gal, she said hey, let's go to that bar for a drink, it sounds really interesting!
Jackie: I've gone there often, even when I was a kid, and it's been interesting to see the shoreline change. It's an excellent place to go in any kind of weather, if you can snag a spot on the overlook and look out and spot some seals in the water.
2452 photos
Amy: Very similar to Mayflower beach but a little more waves. It's probably one of the better beaches on the Cape with parking right near the beach.
Bill: Most well-known for the Lighthouse Inn, which has been owned by the Stone family for multiple generations. The lighthouse was de-commissioned in 1914 but, after being dark for 75 years, was re-lit in August 7, 1989. The light has a one-second flash every six seconds and is now recognized by the Coast Guard as the West Dennis Light, the only privately owned, privately maintained working lighthouse in the country. It's a very nice family resort with not that wide a beach, directly on Nantucket Sound. They also have a number of cottages and rental properties behind the beach. Great for families.
Amy: One of my favorite places to kayak to the end of, down the river to the tip of West Dennis Beach. It's a popular spot for boaters. There's a little spot off the end of the official beach, if you don't have a sticker you can take your boat there.
2063 photos
Bill: It's a bayside beach, right next to Rock Harbor. Another one of the beaches with very wide flats at low tide. It's a town beach, there's a fee to park there unless you're a resident. Beautiful at low tide, nice soft sand. Great for families, great for kids, gentle surf.
2034 photos
Amy: That's a popular one for families due to the extreme low tides. You can also get a great view of the fireworks on 4th of July.
Bill: One of my favorites. Probably one of the best places on the Cape for a sunset. There's free parking all the time. It is not very heavily visited, actually. Right behind Rock Harbor Beach is the community of Jesus, which is a religious community and has a stunning church called the Church of the Transfiguration, One of the most beautiful edifices on the entire Cape. You can take tours of the Church's mosaics, tile work and other artistry, artwork which is spectacular. There is a new belltower It's quite tall, a, and it's magnificent. Rock Harbor There are also has a couple of clam shacks with unusual hours. There's also a historic and renowned coast guard rescue vessel, the CG36500 motor lifeboat that is kept there in summer. It's directly next to Skaket Beach. If you look at the beach there's an active harbor with pleasure and charter boats docked at the harbor. There are these tall "clam trees" "planted" in the water to guide boats to the channel. It's also a very active harbor in season.
You can take tours of the artwork which is spectacular. There are also a couple of clam shacks with unusual hours. There's also a historic and renowned coast guard rescue vessel that is kept there, but there's a movement now to move it elsewhere. It's directly next to Skaket Beach. If you look at the beach there's an active harbor. Pleasure boats are docked at the harbor itself. There are these tall trees planted in the water. I'm not sure whether they grow there, or put there for tradition. There are three or four, 25-30 foot trees in the water off-shore, kind of guiding boats to the channel. It's also a very active harbor.
1980 photos
Amy: We spent our entire summer there. I adore it, they have a great summer program for the kids. You don't have to bring chairs, towels or umbrellas. They have great cocktail service, they have a movie night every night for kids during the summer. They have a lot of live entertainment. We became members this year, and it was one of the best decisions we made. Fantastic beach, it's all sand.
Tara: My ensemble performed there in the past at a major women's conference, "Driven Women," that happened there a couple years ago. It's a beautiful place, one of the finer places on the Cape with a great location. We have an event there at a yoga festival happening there at the end of September. Some drummers and I are going to lead a giant drum circle at the end of the Love Yoga Festival.
Bill: A fantastic hotel, completely renovated a few years ago with an idyllic location, a true 'beach hotel' with lots of beach-y ambiance, fun staff and amazing Old Silver Beach location. Its on-site restaurant Red's has amazing burgers, too!
1960 photos
Bill: I've been to the Tea Dance at 4PM in season. They have a disco DJ, everyone meets up there in the afternoon before going home and getting showered and going out for dinner and dancing. It has a huge deck that overlooks the harbor. It's one of the most renowned properties for that reason.
1883 photos
Jeffrey: Great restaurant town, lots of fun little places to hang out there.
Bill: One of the most strategic harbors. It's home base for the Steamship Authority's year-round Nantucket service for vehicles and its Iyannough high-speed catamaran that runs from April to end December and Hy-Line cruises year-round Nantucket and seasonal Martha's Vineyard service plus Hyannis harbor and fishing cruises. There's also the Cape Cod pirate adventure there, and a small fishing fleet. There's a seasonal visitor's center there, lots of restaurants along the harbor. There are open art studios in HyArts artists shanties there where passersby can pop in and talk to the artists, negotiate to buy something. Number of restaurants, like the Black Cat, the Hyannis Harbor Hotel, the Angler's Club, and not far down the street is the Kennedy Memorial.
Jackie: It's a pretty busy area, there's a lot of restaurants along the shore. I've taken a couple of trips there riding my bike from work.
1830 photos
Amy: It's really fun, you can climb up to see the top, and you can see a lot of the Cape. It's a beautiful iconic view. Definitely a must-see if you've never done it.
Jeffrey: Bring your walking shoes, it's a hike. It's many many stories.
Tara: One of the major icons of the Cape and Provincetown. It's the singular monument of Provincetown, which is one of my favorite places on the planet. There's an incredible vortex of creative energy there, and we want to hang out there as much as possible.
1705 photos
Amy: We used to love going there as teenagers, watching fireworks and 4th of July because you can see them up and down. It's right by the entrance to the canal, they do a lot of seal and turtle releases there from the National Marine Life Center.
1504 photos
Jeffrey: Great sandwiches.
Bill: It's great, another favorite. The guys there are in the process of expanding. The food is fantastic, the ambience is really wonderful. It's kind of a communal dining experience, like elementary school cafeteria tables. You order your food, you never know who you're sitting next to; movie stars, singers, artists of all kinds. It overlooks Provincetown Harbor. Very atmospheric place.
Tara: Love that place; eaten there several times. My troupe did a street performance in Provincetown a while ago, and we hung out at the Canteen after, and I'm a pretty picky vegetarian eater but the food was great for vegetarians. They had hip throwback music, great scene with little firepits around the back seating area, and it was just a lovely experience.
1492 photos
Amy: A must-do for everybody, no matter what age you are. They have a whole outdoor STEM play center, climbing activities, music, water play. My son went to pre-school there for a year. They have an outdoor classroom, they have a car museum there, a carousel. They do a lot of fun events throughout the year there. There was a plant-based cocktail night. They do a rhodedendron festival, and Christmas lights at Christmastime.
Jeffrey: It's a good rainy day place.
1469 photos
Amy: That's a really good beach, you've got dunes behind you. They have a low tide where you can walk out really far. I know it's run by the National Seashore.
Jeffrey: I think it's one of the better national sea shore beaches, not as many people know about it.
Chris: My family fell in love with it this summer. Definitely a great place if you want to sit and watch some seals go by. They kind of go by like clockwork every few minutes. It has a natural sandbar that forms a lagoon behind it. The lagoon is great, it's pretty much cut off from the ocean itself, so if there's a shark sighting you can swim in the lagoon. There's also great waves there, so it's a really awesome spot for bodyboarding. The water temperature there tends to be on the warmer side, every time we went tended to be 68 degrees or so, so it takes the edge off of being in the water. Later in the season, I took my daughter there at the end of the summer. The sandbar actually reached the whole beach. We've also seen whales there.
1262 photos
Jeffrey: Nice escape from Boston, it's right over the bridge.
Amy: Best sunsets. The water comes all the way up to the rocks. A lot of windsurfers. For a fun family evening activity we love to get pizza down the street at the Chappy Grill and bring it with us to watch sunset.
1238 photos
Amy: That's a super popular spot. Everybody loves that place. It's really laid back.Some of the best seafood around.
Jeffrey: Best jingle on Cape Cod. We ran a field trip from Chatham to Provincetown, and the kids asked the bus driver to put the radio on. When the commercial came on everyone was singing it.
1192 photos
Amy: One of my favorite places to go on the Cape. Not only is it close, but I've had family and friends get married there. Friends of Falmouth Nobska Lighthouse is restoring it back to its heyday. You can see everything there, you can see Woods Hole. If you go across the street, there's a little bench with memorials. You can sit on the rocks for a couple of hours. It's a good peaceful spot.
Jeffrey: It's a beautiful lighthouse. I spent a good amount of time there when I was at SEA.
Bill: My favorite beach. My office is on Main Street in Hyannis. Very often, I'll go down there to read at lunch time. Fascinating to watch the wind and kite surfers here on a windy day, they take over the beach. Beach is split into areas for surfers and bathers. Has a snack bar with pretty good food, rest rooms. There is also a 'back side' to the beach for those wanting a more peaceful experience. I like to sit and watch the ferries come and go, and read. On windy days, you can't really get in there because it seems every windsurfer in the Northeast is there. It's one of the best locations for windsurfers. Once they get there, it's this whole thing of putting on the wetsuit, socializing, and they're there from morning to night. It's great entertainment, they get a real thrill out of it, and people on the beach love it too. There's also a backside to the beach; there's a big vegetated area with very tall beach grass. Go down by the canteen where the food is, there's another section that faces Hyannis Harbor; so if you don't want to see windsurfers or the ferry, you can go there too and have a different experience. You can often hear Portuguese being spoken all around you as Hyannis has a large Portuguese and Brazilian community.
Bill: Another beauty, this one off Ancient Way in Yarmouth Port, adjacent to Calorie Darling Conservation Area, which either ends or starts at Gray's Beach (also known as Bass Hole). It's a rather small town beach with an 800-foot boardwalk that extends into the marsh, which was pretty badly devastated this winter. Across from Gray's Beach there's an opening from the beach, it kind of makes it look like a river which is very popular with kayakers. It's quite gentle. It's also near the Aquaculture Research Corp. on the other side, with Chapin Beach. Number of ospreys, and live active nests where some of the chicks have fledged. There's parking, and a couple of seating areas and a pavilion.
1176 photos
Bill: Years ago the original Crown & Anchor burned down. They have a big dance club, Paramount, a leather bar called the Vault. There is also a restaurant there too. It's a Ptown institution.
Tara: Is that the place that does karaoke?  I just have a great memory of inaugurating our family visit with karaoke together. There's just this feeling of openness and acceptance in P'town, where LGBTQ people can feel free. I just appreciate that it's a place where LGBTQ people feel free to be themselves, and that means a lot to me. That feeling of openness extends itself to the general atmosphere of Provincetown. You're free to be who you are no matter who you are. I get that vibe. It's safe to be a person of color, a fringe kind of person, whoever you are.
Amy: Race Point is my favorite place to go with the kids. We go early in the season and look for whales. On an overcast day there won't be a lot of people there.
Bill: Truly a Cape treasure, this wide and gorgeous beach with soft sand, blue water and plenty of space is one of the best beaches on the Cape. Water can be chilly with some undertow at times, but well worth checking out!
1103 photos
Amy: Growing up in Sandwich, we would always watch boats coming in and out the canal. It is connected to one end of the iconic Sandwich Boardwalk.
Jeffrey: Always the best steamers you can get on Cape Cod. They never have sand in them.
Tara: My husband and I go there at least once or twice a year. We think it's the best place to get fish and chips on the Cape. The fish is very fresh coming in from the fishing boats. Sometimes we just make pilgrimages there to get fish and chips all the way from Hyannis. Watching the seals trying to get the fish falling off the fishing boats. We bring a lot of African artists to the Cape for various workshops, and we tend to take them to that Chatham Fish Pier for some reason, and they get so tickled to see the seals. One drummer from Senegal, it was his first time ever seeing a seal.
Jackie: Ah, so much fun. Parking is a challenge, but they have a few designated spots for the fish market. It's amazing, you can walk down and watch all the fishermen come in. There are so many seals, they'll just float with their mouths open and catch all the scraps from the fishing boats. And it's free, so that's great.
Bill: A nice beach at the terminus of Sandwich Boardwalk. It's under attack by Mother Nature; every winter the beach is denuded of sand, due to storms, wave action, flooding. It costs the town a lot of money to replace the sand by trucking it in.
1027 photos
Amy: Good place to go with the kids. They're revamping it a lot, they're putting in a new bowling alley, and there's a virtual reality place there. It's definitely a place for the mid-Cape especially. I don't spend as much time there now, but they've definitely upped it with all the entertainment you can do while there. We like to eat at Not Your Average Joe's.
Jackie: I'm not a big mall person, but if you have to get some shopping done it's a good place to go. They have a lot of restaurants, there's a good movie theater, and they just put in a bowling alley.
Amy: Really good little wine place. They have vineyards, they do dinners and events out there. Cape Cod Children's Place does a fundraising event out there once a year under the stars.
Bill: I love it at low tide. Beautiful bayside beach, great flats. On a sunny day, when the water goes out, it turns kind of a turquoise blue. Paine's Creek has a fence between the parking lot and the beach with lots of rosa rugosa, very fragrant, pink and white. Rosa rugosa first came to the Cape, it is said, when they were sailing from England or Europe, and they kept them on board because the berries were high in Vitamin C. Because of shipwrecks, some of those plants ended up washing up on beaches on Cape Cod where they took root and thrived. Kids will always be fishing and crabbing at the beach and along the Creek. Very popular for families, and it's right near Kate's Seafood on Route 6A which is well known and around for a long time.
Chris: Paine's Creek is by far the best spot to catch a sunset at high tide or low tide. A little more privacy shooting. If you approach the beach and take a right, there's a separate rock jetty out there that's a little less crowded to get better views. At low tide, it's pretty cool to hike up to the creek that runs by the beach area when you first come in. Most of the creek is only ankle-deep at low tide, so you can hike up and down and find interesting spots and places. At low tide, when you come in there's a lagoon there that can get you across to Wing Island, which is part of the saltwater marsh there. They're pretty linked.
Amy: This is a perfect beach to take the family for a spectacular sunset picnic while playing catch and exploring the low tides!
For more info about hiking in New England, check out our guides to Massachusetts', New Hampshire's, and Maine's Most-Googled Hiking Locations!
Bill: There are three beaches that comprise the beachfront of Mashpee — New Seabury, Popponessett and Popponesset Island. It's a nice beach, big parking lot, very sandy. Not too rocky, it's backed by South Cape Beach, Jehu Pond and Mashpee National Wildlife Refuge.
Amy: This popular beach is located in front of the Popponesset Inn and is a popular spot for wedding pictures and summer cocktails! The Popponesset Marketplace is also located nearby with little shops, eateries and mini golf.
Jeffrey: It's a great locals beach in the offseason. Truthfully, one of the best places to watch the sunset in my opinion. OPAK ran a beach cleanup day there on World Oceans Day this year for 140 7th graders.
Tara: I've spent a lot of time on that beach. I used to go running there, and years ago I had such a beautiful run there that I would do there. I'd walk there a lot, it's really beautiful, and my husband's family basically grew up on that beach.
Tara: It's great, my husband used to surf a lot there. It's a great popular tourist kind of place. We tend to go there a lot in the off-season, because the parking lot seems to fill up a lot during the season. I have memories walking along there when it's just a cold and desolate, kind of empty beach, and there's a particular beauty to that. That can be really beautiful. Mother nature can be beautiful in all of her different moods, and there are intense moods on the Cape. The summer can be beautiful colors and spectacular, and there's an opposite to that in the wintertime that's also beautiful; dark and grey and moody, windy harshness. If you live here year-round you better embrace that.
Chris: We used to go a lot, until the demise of Liam's. It was a very famous clam shack at Nauset that had been around for years; sea food, onion rings, burgers and all that. We had a lot of major winter storms here in January and February, winter nor'easters, and Nauset got pretty devastated. They lost about 50-60 feet of dunes pretty quickly, and they had to close. Liam's was kind of a big institution; we love Nauset Beach anyway, but that was an extra draw. Another great place for bodyboarding.
Amy: This beach is very popular for the big waves and shark sightings. We recommend going very early in the season if you want to body surf.
Bill: One of the Cape's greatest beaches, it's a ten-mile stretch of sandy beach offering swimming and fishing, plus surfing in non-protected areas.; large off-road corridor for ORVs. One of the Cape's most popular and renowned beaches of all time!
Bill: Right next to the breakwater, it's directly on the water yet reasonably priced. The location can't be beat, great place for a sunrise, it comes up right behind them.
Amy: Great little hotel. They have the Hearth and Kettle Restaurant in it. They also have a water park, which we've been to a few times. Lots of fun; several slides, a whole wavepool room and a gameroom. They have a lazy river, they play a lot of good music. A good place to stay for families, especially in the offseason when it's cold (it's indoors).
Jackie: I've been there and actually chose them for some functions in the past. It's a great place to have a function, the staff is very helpful.
Amy: It's popular, everyone likes to eat there, good entertainment. They have the license plates as decoration.
Jeffrey: Best place for a local drink.
Tara: Definitely an institution. I believe it has some of the most popular clam chowder, and a fun family place. We've been there a ton, it's fun to go there when they're having music there. We've had a lot of rowdy Halloween nights there; they usually have a really fun dance party on Halloween where people go all out on their costumes.
Bill: A Chatham institution, like stepping back in time. Gets kind of raucous in the bar summer late afternoons and evenings.
Amy: That's right on the canal by the marina. Really popular, they do entertainment, they have an outdoor bar. Popular to go and watch the boats coming in and out from the canal.
Jackie: Also a fun place to watch the fisherman drop off their catch for your table. They have three different seating options; indoor, outdoor and on the deck. They have sushi and the food was great. Definitely a place I would go back to.rail
Amy: They have a whole area down there, there's a marketplace with live music, good food, good view. My sister got married there. Very popular with Mashpee residents, popular place to get married.
Amy: I used to lifeguard at this beach as a teenager and while it is a little rockier it has great views of the sound and a pleasant breeze.
Tara: It's cool, I once took photos there with a remarkable photographer named Julia Cumes. You run across people like that on the Cape who have international reputations, and Julia is one of those people. She photographed me dancing on the beach at sunset, and they're some of the most spectacular photos I've ever had taken. It was funny, she posted them on Facebook, and she said oh yeah, we took these on Cold Storage beach, and some people who are from off-Cape said, "Cold Storage Beach? That sounds like the Sopranos or something." The name of the beach sounds a little ominous.
Amy: A resident only beach with smooth sand and gorgeous low tides. It's fun to sit and watch the boats going in and out of the harbor jetty.
Amy: A perfect beach for early risers who love the sunrise. At low tide you can walk out about a quarter mile.
Bill: I live in Osterville and Dowses Beach is in Osterville. It's lovely, I actually got married there. You have to live in the town of Barnstable, you can't buy your way in. Very beautiful beach, huge amount of rosa rugosa, a number of memorial benches. There's a big parking lot and a stone jetty, and after the attendants leave, people will fish off the jetty. It's connected to Short Beach or Long Beach in Centerville by water; a lot of people kayak there. A lot of sailboats anchor in East Bay behind the Nantucket Sound section.
Amy: The Knob is actually protected land by the Salt Pond Bird Area Sanctuary group. As you walk out along the paths you come across these rocks laid out as a bridge. You come out, climb up the stairs, and it's absolutely breathtaking. I actually got married there. It's one of those beautiful places with a great sunset, great view. Good way to get outside with the kids. You can find really neat things down there.
Bill: Very popular, very famous. It's had a number of famous personalities, President Theodore and Mrs. Roosevelt stayed at the Inn when they traveled to Provincetown to lay the cornerstone for the Provincetown Monument. In 1987, Pulitzer Prize winning author Norman Mailer directed the film Tough Guys Don't Dance, based on his book of the same name. The film was shot in Provincetown with many of the scenes filmed at The red Inn. The rooms are lovely, they have a fantastic restaurant. They have a deck on the back, you can have cocktails back there. You can't make a reservation without a credit card.
Bill: Bayside beach, lots of wind surfers and big rock formations there. I think there's two or three beaches in a row, Corporation, Cold Storage. Great beach for walking. Beautiful homes, very expensive part of Dennis.
Amy: That's the pier you go out on, you can go really far out. You can see all the boats, you can see the monument out there. The high-speed ferry leaves from there.
Jeffrey: I think the best place to leave from a whale watch for. Also another hard place to find parking. It's where the dolphin fleet leaves from. It's also where the Provincetown to Boston ferry leaves from, and a lot of different charter fishing trips and stuff.
Amy: This is a natural Estuarine research reserve. They offer opportunities for camping and educational programs for local kids and the schools. They do many different types research programs as well as offer shell fishing, hunting and fishing with permits.
Bill: This scenic body of water is encircled by Waquoit Bay Estuarine Research Reserve, 2,700 acres of open waters, barrier beaches, marshlands, and uplands, with very nice paths for walking and vistas out over the beautiful Bay.
Amy: That's where the boats come in and out for Martha's Vineyard. People will eat at the restaurants before they go on the boat. It is the only way basically to the vineyard other than a couple of other boats.
Jeffrey: It's the easiest way to get to the islands.
Amy: Right next to Sea Crest, most popular beach in Falmouth. Great sunsets, you can walk all of the way out in low tide. There are lifeguards in the summer time. You have to get there really early in the summer time. That lot opens early and people are awaiting. Us locals like to wait until off-season to take advantage of that beach.
Amy: That's in Hyannis, it was the home of Joe and Rose originally. It's a massive, private house on the water that people love snapping a picture of a small piece of Camelot history.
Jeffrey: It's super important to a lot of the Cape Codders. It's really hard to get to.
Bill: Another Cape treasure, hard to find (unless you know 'the secret way' that I know), it's sobering to sit in front of that impressive house and imagine that the President of the United States once ran the government of the USA from that very spot. It has been meticulously maintained and the community is very protective of its presence.
Amy: I think it's like 20-and change miles, really great scenic views along there. It goes through a lot of protected areas and things like that. It's really popular for bikers, parents walking with their kids.
Jeffrey: Best bike trail at least in Massachussetts. Flattest bike trail you'll find. I like to bike through the Brewster/Harwich area, because you go through a lot of the cranberry bogs.
Tara: Great bike path, recommend it for anyone. An awesome way to spend the day. We've done the bike path a lot. We used to do an annual trip that would start in Brewster and ride all the way up to Provincetown. We'd get off where the trail ends in Wellfleet, and we'd ride in neighborhoods in Truro all the way to Provincetown, stay overnight at a b&b, and just would feel like we could eat whatever we want when we finished the ride.
Chris: The rail trail is kind of an amazing place to start an adventure, there's not too many divergent paths on it. You can't really get lost as long as you're on the rail trail. At times, you can cut through some beautiful pieces of land and you're the only one out there. If you go far enough, you can find a spot to stop, go off the trail and explore. When you're in Orleans, you can hop off and go into the Namskaket Marsh there. We really like biking down to Seymour Pond, which is right off the rail trail in Harwich.
Bill: The Rail Trail has undergone about 3.7 miles of extensions into the Town of Yarmouth, a new cycling bridge over Bass River and another bridge over Route 6. Ultimately, the plan is to connect all 15 towns to the original Cape Cod Rail Trail so cyclers can travel from Bourne to Provincetown.
Jackie: Great place to ride your bike or run. There are several places where you have to stop and cross the street. I believe it's in the process of expanding even further into Hyannis which I'm very much looking forward to.
Amy: Lots of great little stores down there, they do great events for the community. They do a nighttime Christmas parade. They just had a race called Seaside Le Mans, which is really popular. Lots of great restaurants down there.
Jeffrey: Better place to go to for a shopping/dinner night out than the mall. They have a lot of different restaurants, a bowling alley.
Bill: A truly inviting multi-use complex, rather like a small village, with diverse shopping, dining, entertainment, living and green spaces, truly a vision for the future!
Jackie: The way it's set up is very cute; it's like a little village with several local stores. There's a little movie theater, lots of restaurants, yoga.
Amy: Anytime you can drive out, especially on the national seashore, on the beach. We've done both Sandy Neck and the national seashore. It's definitely something that helps you feel at peace. There's no one else around you. It's always a good time. A lot of Cape Codders do it.
Amy: We go there a lot, you drive out on the sand. You spend a whole day out there. People do lobster boils and clam boils out there. There's a lot of good people there, we all know each other and the kids will play with each other.
Bill: A remote sandy stretch of sand at the end of the Provincetown Breakwater with a uniquely shaped (square and squat) lighthouse. There is a five-mile walking trail which looks back at the main portion of Provincetown but is very peaceful, with wildlife, birds and sandy beach. The Long Point Shuttle, a pontoon boat leaving every hour from MacMillan Pier Slip #8 in the summer season (10AM to 5PM) brings people wanting some solitude from the center of Provincetown directly to the beach at the foot of Long Point Lighthouse and back again.
Chris: The big thing with Point of Rocks is there's not a lot of parking there, but it's also not too crowded. It's kind of a smaller version of Paine's Creek in terms of landscape. There's a lot of seagrass and moss. At low tide, it's very easy to walk on the flats. Nature's always changing and different year-to-year. You're never going to quite find the same thing twice when it comes to the ocean. I quite enjoy using the tidal pools at Point of Rocks for shooting; they tend to form very large and very shallow. You can't really go wrong with any of the beaches in Brewster.
Amy: I grew up going to a lot of soccer games there. Paw Palooza brings in a lot of people there.
Jeffrey: Paw Palooza is a big event, it's a really big charity on the Cape.
Jackie: It's the site of some events, like the Cape's baseball league games, and Paw Palooza every summer.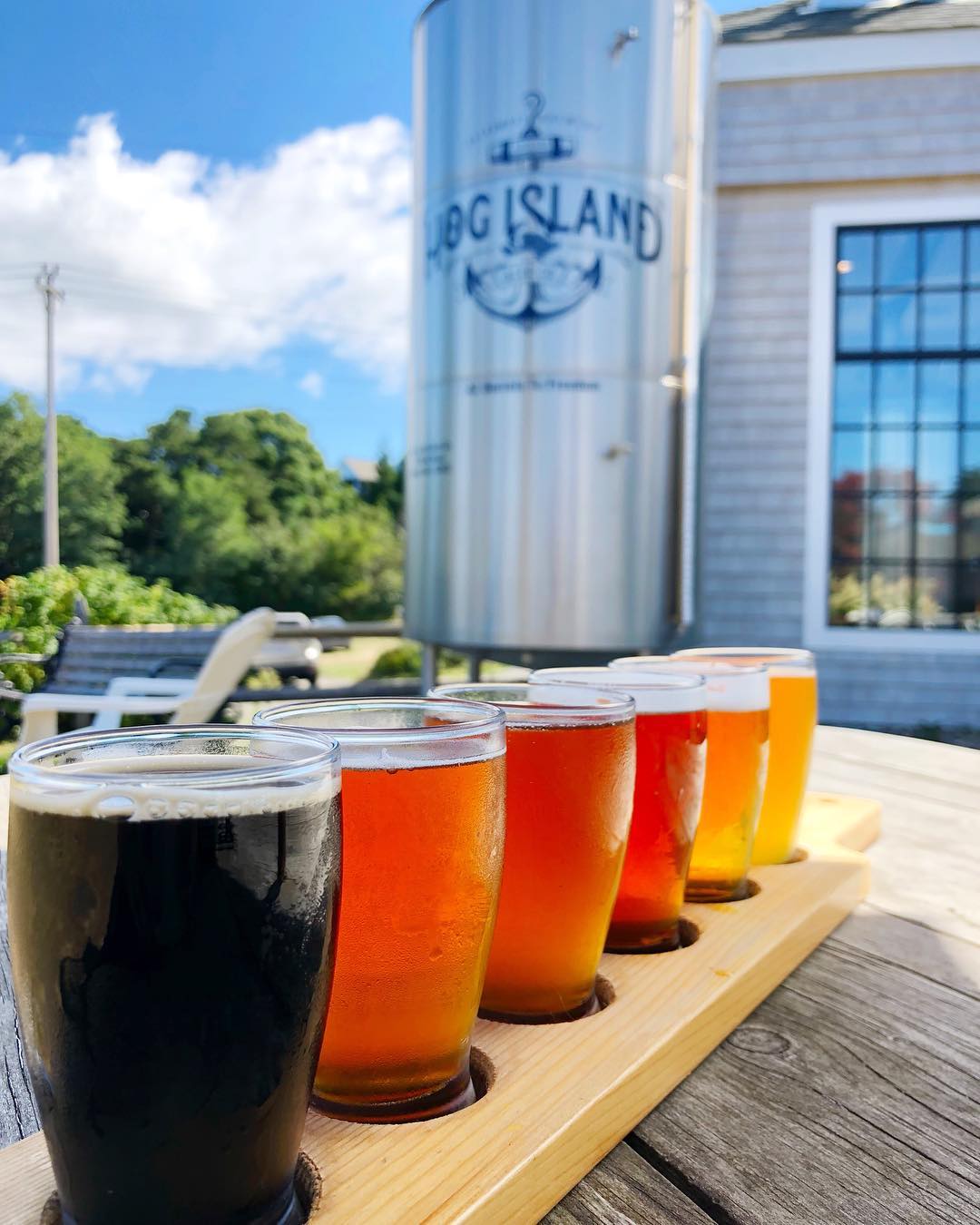 Amy: Good date spot. Very laid-back, big benches. It's over in Orleans. Good beer, good IPAs. They have good live music. It's a good place to go for a laid back date night out.
Jeffrey: Great local beer, they named it after a small local island in Orleans.
Bill: One of the best new craft breweries on the Cape. These folks have truly done their research, have a top-notch product with laser-focused marketing! Bravo!
Amy: Beautiful protected acreage that's hosts lots of weddings and community events, like Bourne Farm Pumpkin Day. They also welcome local schools in for field trips especially in the fall teaching the kids about apples and making apple cider. They raise money to protect the farm, there's a giant stone wall there perfect for staging fall family photos.
Amy: They're a great locally-owned place. They give a lot back to the community, and they have a very popular hidden garden.
Jeffrey: One of the best cups of coffee you can get on Cape Cod, with a sustainable touch too.
Jackie: That entire piece of property is a great little community, with a restaurant, a local hardware store, the coffee place, and in the back is a herb shop that sells tea and other cool things. Great place to go and spend a Saturday.
Amy: Kids like to jump off of it. It often gets wiped away in the winter due to big storms, but the community partnered with the Sherriff's office to rebuild this past year. The boards on the boardwalk are donated.
Bill: A Cape icon — a huge draw for visitors and locals of every age. Whether one is jumping from the arched portion of the Boardwalk, traversing the entire span from the parking area to Town Neck Beach, observing heron and other wildlife from the surrounding area, this is one spot that should not be missed!
Tara: I've eaten there many times over the years. It's one of the places that stays open in the off-season in Provincetown, so there have been many times where we've found ourselves in Provincetown where it was cold and snowy and rainy, and the cafe was one of the few places open in Provincetown. You can get a great meal there, good comfort food. It was a beacon in the gray ghost town of the off-season. There's kind of a special feeling when you go to a place like that with a lot of the locals that are there. There's a special coziness of being in a place like that.
Jeffrey: Another beautiful lighthouse, Cape Cod has so many of them.
Amy: Lots of walking trails, very popular beach. It has multiple avenues to go hiking in that area. They're beautiful spots.
Amy: Big supporters of the community. They partner with a lot of organizations. They did an adult Lego build night at Cape Cod Beer which was a really fun event.
Jeffrey: They're actually one of the biggest charitable givers on the Cape. It's still a family-run business, it's pretty awesome.
Jackie: They are a great member of the community, they host a lot of events, from a 5k to farmers markets in the summer. Other organizations can come and partner with them to hold events in their space. In addition to their own beer, they have local cider and wine, so you can go in for a tasting, or just for the gift shop.
Amy: My favorite chocolate place. I go up before Christmas every year to get hot chocolate and get chocolate for the stockings. The hot chocolate is made from their hot fudge. They're open even during blizzard conditions, which is great for the plow drivers. Unique chocolate gifts, we once got a toolbox-style chocolate thing for our oldest, who was into toolsets.
Tara: Oh yeah! My husband and my second home. We lived nearby for many years, and in the off season things can get pretty isolated in the off season, and the Chocolate Sparrow is just a place where a lot of locals are hanging out together. It's a cozy place for locals to meet and hang out. I really appreciate it; there are very few coffee shops like that on Cape Cod in general that stay open as late as the Sparrow. There are a lot of local characters hanging out there of people working on their laptops or coming out of the woodwork. The Cape is an eccentric place for year-rounders, so I love the characters who are here and manage to make a living here, and especially on the outer Cape.
About our local experts
Tara Murphy, Cape Cod African Dance and Drumming: I've been studying African dance and culture ever since I went to Ghana in college. I'm bi-racial, my mother is African American, my father is Irish American. It was very much about exploring my roots; I had a real hunger for exploring African culture, and debunking a lot of the stereotypes and misinformation we see about Africa in the media, seeing the wealth of wisdom and intense richness and beauty of the art and culture. I danced in a company in Ghana, and lived in a little village, and the trip filled me with a mission to help educate Americans about Africa, to give a more true understanding and positive understanding of what African culture is. It took me a while to get to that point; I came to the Cape with my husband Chris, and we came here because his family was here. I started teaching, I had an extensive background in African dance, and it really caught on. The group has really grown, and I've been able to travel with teaching African dance. I mostly focus on the therapeutic aspect of African dance — there's something about it that's particularly healing. We most often dance with live drumming, and the movements coordinate with particular rhythms. It's intensely cleansing for your mind and your body. The high you get from it is better than using drugs or alcohol, tapping that bliss inside that we're all capable of. Living on the Cape has really helped me to develop my African dance teaching and performing.
Something people are really needing in society these days is community; community bonding. Getting together and connecting in a way that's not cerebral; you're not disagreeing on politics or religion, and getting together from all different walks of life and vibe on the same beat together, and enjoy that joy, that bliss that comes from the movement and drumming.
Chris Lynch, @Chezpics66: "Where I'm at in Cape Cod stems from my wife and her family going back to her great grandparents, they have land in Brewster. Honestly, for the first ten years of our relationship, it was all about the pond. We kind of hung out there, and I started getting into taking photos of the woods and the pond and the wildlife down there. It helped me get into doing nature photography. More recently, we have a six year old daughter, since she's been born, we've spent every summer on Cape Cod, and we've been exploring more."
Bill DeSousa, DeMa Public Relations: Bill was born in Manhattan and grew up in Southampton, Long Island; a clinical psychologist by education and training, he left that discipline to pursue a 20+-year career in banking, later community relations and, ultimately, public relations. Following his heart, Bill pursued a career in travel and tourism hospitality which resonated with his love of worldwide travel, which ultimately brought him to live in Osterville, Cape Cod. Presently, he manages PR for the Cape Cod, Martha's Vineyard and Nantucket Chambers of Commerce, the three regional tourism councils for these regions. Bill handles all international and domestic media visits and communications, bloggers, travel trade and other VIP regional visits, manages image libraries, and general communication with the travel, hospitality, travel trade and other ancillary segments. He also manages the PR outreach for the Nantucket Book Festival held in mid-June on Nantucket island.
Amy Leonardi, Cape Cod Moms: "I was born and raised here, I decided to resettle and raise a family here. I love the Cape because there's nothing like it anywhere else. I love the feeling of community we have, it's a really good place to raise a family.
I joined a breastfeeding support group after the birth of my first child. I was impressed with the fact that we had a group of moms working together to raise our kids, all across the spectrum politically, economically, socially. There's no parenting handbook, and that was what brought us together. I wanted something more, an online space, and it grew into having events and a mom retreat. Cape Cod Moms has been great because there's something for everybody. The more you entrench people in the community, the more you connect them with family friendly businesses, it increases the chances they stay here, strengthening the community and reducing things like crime and drug use."
Jackie Driscoll, Cape Cod Potato Chips: "From when I was born to high school, I spent my summers on Cape Cod. I became an adult, and didn't come back too often. Three years ago, I was open to relocating and looking for a new job, and found a job at Cape Cod Potato Chips and was like um, yeah. It was meant to be that that job got posted when I was looking. It was perfect timing and I love living down here. The factory has a lot of history, it's very nostalgic for a lot of people. Photos are limited inside the factory because of the production and out of respect for our employees,  but we see a lot of parents sharing their experiences with their kids. It's definitely a fixture in the community, and extremely popular when it rains in the summer."
Jeffrey Morgan, Ocean Protection Advocacy Kids: "I went to Boston University for marine science. I spent all of my summers on Cape Cod, sailing tall ships, teaching environmental education and the history of sailing all around New England. I was fortunate enough to do trans-Atlantic sails with the Sea Education Association, and in my senior year, I took a marine policy class and fell in love with teaching people why they should care about the ocean. I found a couple of different organizations to volunteer for and started teaching younger kids about climate science and ocean science, talking about how the smallest actions they take impact everyone's perception of the ocean. I started OPAK with my co-founder Melanie Pulpey. I'm on Cape Cod half the year, and live just outside of Boston the other half of the year.
It's not in New England, but we also have a Most-Instagrammed article like this for Santorini!