For a tiny island in the Aegean Sea, Santorini is pretty famous; the Nation recently referred to it as the "Instagram Island." Tourism is almost too big a part of their economy, but they're branching out; last summer, CNN reported that wine production is on the rise and might save the island from too much tourism.
If you're headed to Santorini and want to make sure you check the boxes of Instagram photos you need to take, we analyzed a year of Instagram data, using posts that were geo-tagged on the island. We then tallied up which places were geo-tagged the most, and interviewed two local experts to get their tips on most of the places.
Also, If you're headed there, please think of the donkeys.
Santorini Local Influencers:
Michael Fytros, Hospitality/F&B Manager of Venetsanos Winery
Pavlos Inglesis, owner of Santorini Secrets
1. Red Beach
Michael: Red Beach is unique. It's a little bit dangerous. Depending on the year, it's can be closed so you can't reach the beach. There are issues, but it's a very beautiful spot, and you can even go with a boat.
Pavlos: It's a super famous beach. At some point, Santorini became viral five or six years ago when the Kardashians went there. It's a super unique beach, and you have to see it with your own eyes. If you go in May, June or October, you will appreciate it more, because it's less crowded, but if you go in July, August or September you have no space.
2. Akrotíri
In 2016, Russian cybersecurity expert Eugene Kapersky funded three major projects to research and preserve Akrotiri's wealth of archaeological ruins, which date back to a volcanic eruption 3,500 years ago.
He said:
"What I find magical about Akrotiri and the decades-long, ongoing archaeological research is the sense of an unpredictable past. The fact that following a volcano eruption 3,500 years ago, we modern people are trying to comprehend how these people lived back then. And I believe that we have plenty to discover. Do you think that 3,500 years from now anyone will be interested in finding out how we lived?"
3. Grace Santorini
Michael: Grace is one of the top five hotels in Santorini. I think there's also one on Mykonos. It has amazing views, food and amenities. I can say only good things about it.
Pavlos: Grace is actually probably the most expensive hotel in Santorini, and most popular. If you see the pictures, you understand why. If you see a picture from Santorini, it's probably from Grace. Money-wise, I couldn't afford to go there to be honest. It's a really amazing place, and one of the most popular and luxurious places in Europe.
4. The Volcano of Santorini
Michael: The volcano is the thing that Santorini became famous for. It's in the middle of the island. If you visit, it's not something that super in my opinion. You have to walk in the summer, it's very hot, your feet hurts. As a combination with something else, it's a nice experience.
Pavlos: It's a really unique thing. There are cruises that actually go from Santorini's port to the volcano. The volcano itself is in the middle of a small island next to Santorini. The volcano itself is a rocky place, you can do a day cruise or a half-day cruise. It's just a rocky place. You are on the volcano basically, you are walking on the volcano. You see Santorini from the other side. There are some hot springs as well.
5. Cavo Tagoo Santorini
Michael: It's one of the top hotels in Santorini. It's a Mykonos-style hotel, they have amazing food, amazing view, amazing infinity pool. The rooms are very nice, very high quality service, staff. It's expensive, but worth the money
Pavlos: Another famous and super luxurious hotel.
6. Santo Wines Winery
Michael: Santo Wines is very close to us. It's like ten minutes walking distance. It was established in 1947 in Thera. In the beginning, wines in Santorini were not very popular. They were shipping the wines to Athens because they had very strong alcohol. They moved to the location on the caledera with a very nice view above the port. They have about 600,000 people a year, and a a very big range of wines. In the last few years they have been developing, they opened a restaurant this year. It's a quality wine, they have many awards for the wines. In general, we have 18 wineries. Wine is a very important product for us here. We have a completely unique village, the vines grow very short to the ground. At Santo wines, you will see the vineyards and the production areas, and the views.
Pavlos: Santorini is a famous wine production place. There are maybe 20 different wineries on the island, there's a new one popping up every other year. If you have no time to spend on wineries, then just go there for an hour, do some wine tasting, and the view is amazing. In July/August/September, there's probably a wedding every day. The place is massive, you can sit and relax and take your drink.
7. Rocabella Santorini Hotel & Spa
Pavlos: Again, super luxurious, super expensive. Part of a hotel chain you can find in Mykonos, the same luxury or price level. Definitely some of the most photographed.
8. Sunset Oia Sailing Cruises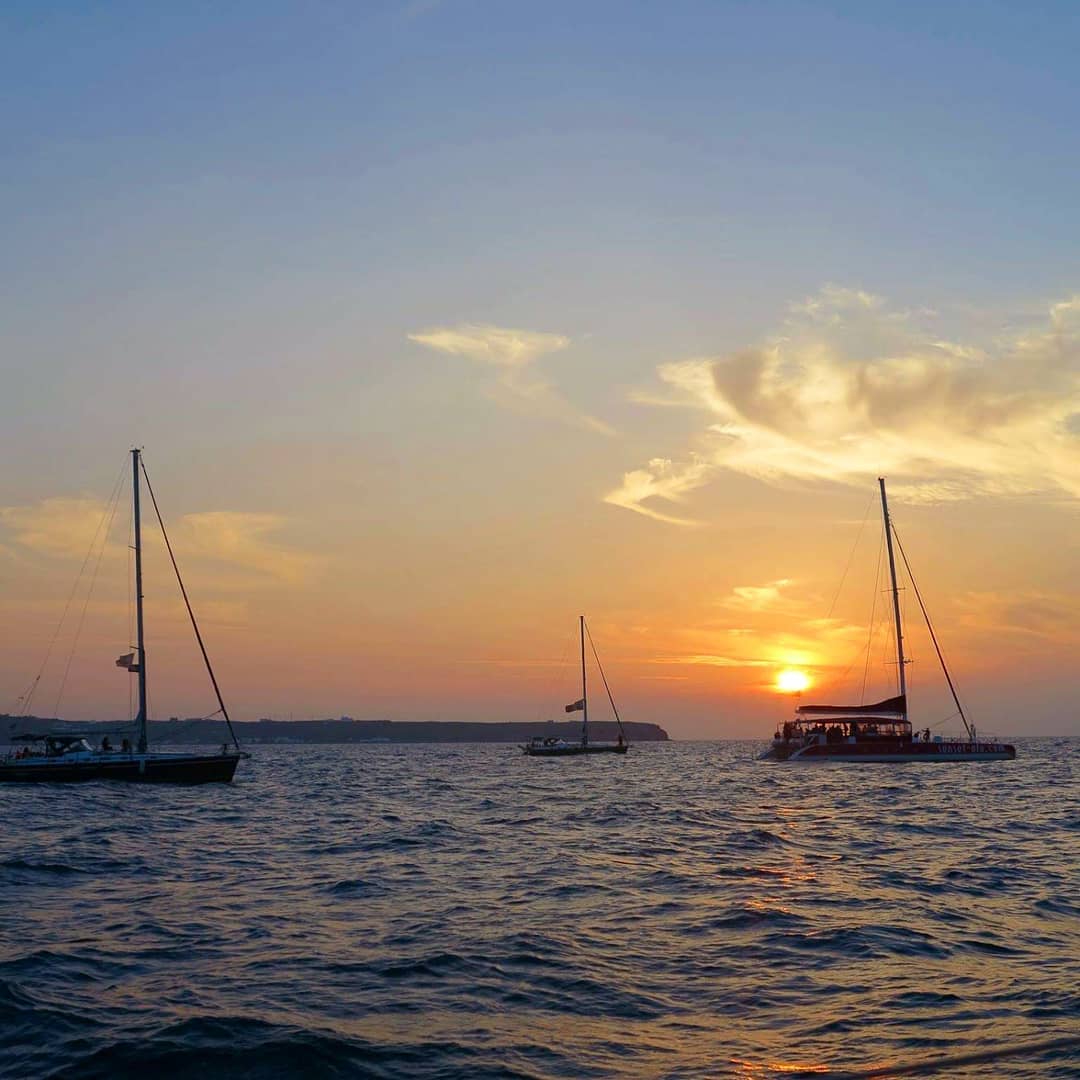 Michael: The last five years, I think it's a must-do on the island. You have to do one trip with sailing boats. They take you around the caldera, you cannot see it any other way. There are no roads that go down there or paths. It takes you to the old volcano and the white island also. In general, it's an experience you will remember for the rest of your life. I live here, but every time I do that it's something I remember.
9. Santorini Port
Michael: You see all of these rocks, it's something amazing. Only one boat can reach the port at the same time, they're working with the government to fix it.
Pavlos: If you want to go to Santorini, if you don't get a direct flight, you have to go through Athens. If you take a ferry, it's a several hours long ride. In July and August it can be super crowded with cruise ships and regular ferries. It may look chaotic but somehow things are sorted.
10. Katikies Hotel Santorini
Pavlos: Another one of the super expensive and luxurious hotels. Katikies is in Oia, which is the place where everyone goes for the sunsets. Very nice restaurant too.
11. Venetsanos Winery
Michael: The first industrial winery in Santorini. Electricity came to Santorini in 1967. They were shipping wine from 1949 to 1979. In 1979, the winery closed, and it reopened in 2014. We make two white wines, we also have also a semi-dry rose, one dry red, and two sweet wines. If i could choose one, it would be Nykteri. It's an acidic variety, it's the most local variety we have in Santorini. It's a single-vineyard wine from a village, and has 14% alcohol. Round in flavor, it has acidity, minerality, it pairs with white meat, chicken. It's very nice.
Pavlos: If Santo Wines is on the top, then Venetsanos is pretty close. It's a new addition on the winery map. This is a much smaller winery, family-owned.
12. Ancient Thera
Michael: It's something unique, and you can see an amazing view. It's on the top of the mountain. It's not fully extrapolated yet, only a part of the village, and it's a thing that you should definitely do.
Pavlos: There are two main archeological sites in Santorini. Thera was the original name of Santorini. This is an archaeological site close to the airport.
13. Chromata Santorini
14. Volcano View Hotel
15. Andromeda Villas Luxury Hotel
16. Dana Villas
Pavlos: It's got amazing reviews on hotels.com. It's a really cool hotel. Less expensive than the other ones.
17. Charisma Suites
18. Oia Mare Villas
19. Kirini Santorini
20. Sunset Taverna
21. Tranquilo
Michael: It was opened not many years ago. I hear the best comments about it, it has a very nice beach in front of it. It's very nice, ambience, and the food is very nice. They have amazing cocktails, very reasonable prices.
Pavlos: That's a really cool beach bar and restaurant in Perissa (the black beach). Really cool place, really fun place. They have super nice cocktails and vegetarian food and Mexican food.
22. Santorini Wet Stories
Michael: They have a very nice upstairs, downstairs, sunbeds, the atmosphere is very nice, the music is very nice. It's a little pricey.
Pavlos: Another really cool beach bar and cocktail bar on the beach, with sunbeds and things like that. It's close to Tranquilo.
23. PK Cocktail Bar
Pavlos: It's a nice bar with amazing views, it's a bit touristic. If you've never been to Santorini, it's nice to drink in front of that view.
24. Santorini Old Port
Pavlos: Santorini had another port some 20 or 30 years ago. It's a much smaller than the new one. Because they had to accommodate the big cruise ships and new ferries, they built the new port.
25. Black Sandy Beach
Michael: Very long beach, it includes three different towns. It's about five to seven kilometers. One of my favorite beaches in Santorini. Santorini is not very famous for beaches. The water is very clear and clean.
Pavlos: The biggest beach on the island, it's also called Perissa or Perivolos. . If you are not really looking for the famous Santorini views with the white-washed houses on the cliff, it's great. I keep on telling people if you can't afford these thousand dollars per night hotels, go to the other side of the island, stay close to the beach, and visit the amazing cliffs. If you stay close to the beach, you definitely pay less anytime of the year.
26. Mystique
27. Perivolas Hotel
28. Demilmar
29. Enigma Club
Pavlos: That is one of the few clubs on the island. It's mainly for Greeks and they only play Greek music to be honest.
30. Suites of the Gods Spa Hotel
31. Santorini Secret Suites & Spa
32. El Greco Resort & Spa
Pavlos: I think it's slightly cheaper than the other ones.
33. Iconic Santorini Cave Hotel
Pavlos: They call these things cave hotels or cave houses. Back in the day, 50 or 60 years ago, they had to carve their houses out of caves. This was a luxury hotel that took over some of those old houses.
34. Aqua Luxury Suites
35. Andronis Boutique Hotel
36. Sophia Luxury Suites
37. Caldera Villas
38. Ambassador Aegean Luxury Hotel & Suites
39. Pelica Kipos
Michael: Kipos is in the middle of Fira, they have a lot of flowers, trees. They have an amazing cellar with different vintages of wines. The service is high-level, as well as the food and the snacks. It's open throughout the year. even in the winter. It's a very nice place to visit
Pavlos: It's a really good restaurant. Much cheaper than the fancy ones that are on the cliffs. This one is on the backside, it has a nice garden. Kipos means garden, really nice food actually.
40. Pyrgos Restaurant
Pavlos: That one is in the third-biggest town on the island. That is a place with very nice views, but different views. They're doing a good job with weddings.
41. Skaros Rock
Michael: Skaros is a very interesting spot in Santorini. It's not very popular, you have to walk a lot. There was a fort there in the last 100 years or so, but it collapsed. You can see the ruins. If you walk a little further, there's a very nice church. It's a very nice location, and you can see complete panoramic 360 view of the island. It's the best spot to see the view in Santorini.
Pavlos: That one is a like a rock in the middle of the sea. It's a nice hiking trail. You can do that on any day.
42. Atlantis Books
Michael: I think it was voted one of the best bookstores in the world. it's something completely different and unique. in order to go to the sunset, you have to walk through Thia. you definitely will see the bookstore. There are many articles about it. I have visited, it's amazing inside. The people and the book store are important in Santorini.
Pavlos: That has a very unique story. It's a small bookstore, really picturesque. There was some guy from somewhere in America, who visited Santorini 20 years ago, and he said that's the place, I want to open a bookstore there. He had a TedX talk the other day, he's telling his story. Very cool spot in Oia.