Like Martha's Vineyard, Nantucket is primarily known as a vacation island that swells to a population of 50 or 60,000 during the summer, but retains about 10,000 people year-round. It's one of the most sought-after places to go on vacation in the entire world.
Every year, those 50 or 60,000 people take a lot of pictures. We downloaded a year's worth of Instagram photos that were taken on Nantucket and tallied up how many times a picture was taken and geo-tagged at dozens of different locations. We ended up with this list of 31 places, which we consider to be the most iconic, Instagrammable and popular places on the island. The list includes lighthouses, beaches, bars, hotels, restaurants, an ice cream shop, a museum, and more.  We then called up three people who live on the island year-round to get the inside scoop on each location.
Note: Pictures by businesses of their own location were not counted in the tally.
The Experts
Lisa Dwyer, The Brass Lantern
Gaelan Truyman, Fisher Real Estate
Georgie Morley, In It For the Long Run
2437 Photos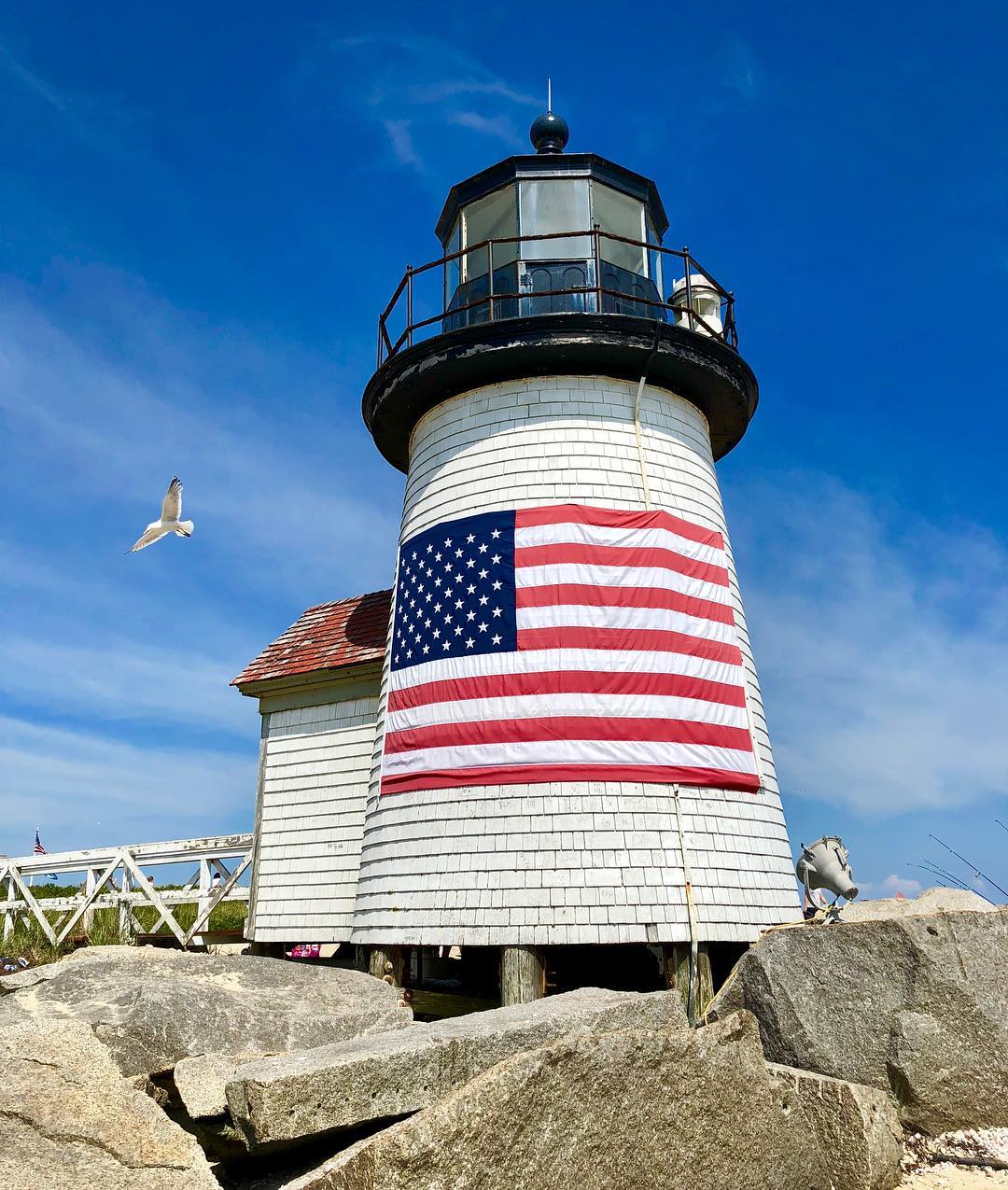 Lisa: That's basically the introduction to Nantucket Harbor. It's often decorated with the American flag and a daffodil wreath or Christmas wreath. It's iconic on the island, a great photo op area. It's 5 minutes from the Brass Lantern Inn and a spectacular introduction to Nantucket.
Gaelan: When you're on the ferry and leaving Nantucket, people throw two pennies overboard in hopes of returning. It's the closest lighthouse to town and easiest to get to, especially if you don't have a car on island. I personally love watching the Rainbow Fleet parade during Nantucket Race Week. These cute sailboats all the colors of the rainbow come right up the water's edge.
1850 Photos
Lisa: A don't miss on Nantucket. Family friendly, dog friendly, award-winning beer and liquor. Just a great time, great way to spend the day.
Gaelan: Cisco is my favorite spot on the island. We go there once a week, year-round with our dog and baby. It's a must-do for anybody visiting Nantucket and easy to get to because they have a free shuttle from town. You can also do a Nantucket Bike Tour that ends up there.
Georgie: Cisco is awesome. I feel like it's a rare place where locals and visitors can co-exist peacefully. It's so low-key and it stayed really true to its roots. That's why people really love it.
1785 Photos
Lisa: Beautiful boats, a great place to walk, again, quintessential Nantucket.
Gaelan: You're not supposed to walk down on the wharf but you can. Just pass through the wood barrier and you can get up and close and personal to the yachts. The sign says it's only for the boat owners, but you can walk right in. People love to get an ice cream cone and walk down there, and they're called "cone lickers", because most people walk the wharf after visiting the Juice Bar. I love to walk down there at dinner to see the crews working hard and delivering lavish dinner parties.
1566 Photos
Lisa: There are fire pits, you can watch sunsets and the moon rise all at one time. Classic Nantucket in every respect.
Gaelan: The best place to lounge in a private cabana and watch the sunset with a bottle of rose and your toes in the sand. We like to go there for our anniversary once a year – it's a special treat.
Georgie: Not somewhere I typically go, but when I do go it's absolutely stunning. There are few places that have sunset views like that.
1517 Photos
Lisa: Sankaty received the first mayday from the Titantic. It overlooks Indian burial ground, they moved it back 100 feet, 10-20 years ago. it overlooks the bluffs, it's a very beautiful spot to spend some time.
Gaelan: My favorite lighthouse that's found in Siasconset. Definitely another must-do on Nantucket. You can't go inside, but you can walk all around it see beautiful ocean and golf course views. It's the white and red lighthouse, it's very iconic.
1262 Photos
Lisa: Known as the party beach, you can drive right onto it. It attracts a certain crowd, big 4th of July party on that beach.
Gaelan: Party beach, they have a wild party on July 4th, although the police have done a great job controlling the madness it so it hasn't been too crazy in recent years. You can drive on, bring food and beverages for the entire day. There's lots of drinking games going on, like cornhole, cisco disco and can jam.
1065 Photos
Lisa: You can reach it by 4-wheel drive, it's a seven mile drive out there to that lighthouse. Great place to watch seals, very beautiful area. It is a trek to get out there.
Gaelan: You need 4-wheel drive and a special beach sticker to get out there. It's the most remote beach. You should plan on four hours driving out there. You drive along the water's edge, and there's lots of wildlife including seals, osprey, snowy owls, and event great white sharks have been spotted out there.
Georgie: It's such a fun adventure. It took me 20 years to get there, I'm embarrassed. If you have the ability to rent a jeep and know someone who has a pass, it's so cool.
1064 Photos
Lisa: Wonderful upscale oyster bar, great service. wonderful oysters and appetizers. They have a beautiful patio on Nantucket Harbor. Very popular.
Gaelan: Best seafood and shellfish. We like to go to the back bar for oysters and a Crucumber. It's right on the Nantucket Boat Basin and Straight Wharf. It's the place you go to see and be seen.
900 Photos
Gaelan: The large hotel. They have an incredible all you can eat brunch. It's a very popular wedding destination. It also hosts the Nantucket Wine and Food Festival and the Nantucket Project.
890 Photos
Lisa: I love Bartlett's. My favorite thing is the two giant steers out front. Beautiful flowers, great sandwiches. Kind of a farm to table concept with a serving bar with wonderful lobster salad. There's also a yoga studio.
Gaelan: It's a really special farm right by the beach. They grow a lot of produce that they sell at their grocer and right here in town. They have a little farm truck where you can buy produce. They have corn and tomatoes and we like to stop there to pick up lunch to bring to the beach. They have great pre-made meals.
Georgie: I love Bartlett's Farm. I am a plant addict and their produce in the summer is so delicious. The tomato picking in August is a fun activity. They stay open most of the year as well.
864 Photos
Lisa: Family friendly, great place to walk on the beach. It's a nice place to send families. It's warmer than the Atlantic side of the island. Beautiful walk down to the bluffs. great place to walk.
Gaelan: A new restaurant that opened up there last year was called Sandbar. Great casual vibe right on the beach with easy seafood dishes and great cocktails, they also host the Boston Pops concert. It's a fundraiser for the hospital.
Georgie: I love it because it brings back so many memories. There are so many great events that go on. Pops, the fireworks. It's a fun family space.
859 Photos
Lisa: Steps is a little further than Jetties. Lovely beach with a beautiful staircase, a little more private than Jetties.
Gaelan: Steps beach is really a breathtaking view, I would think it would be higher up on the list. It's in the Cliff area and I bring every guest over there.
Georgie: That view… honestly, it never gets old. In all weather, it looks amazing.
790 Photos
Gaelan: Everyone always ends up at the Chicken Box. It's the local dive bar. They have amazing bands coming there thanks to the owner. In the summer we have bands like the Revivalists, Matisyahu, Blues Traveler, Donovan Frankenreiter.
Georgie: I'm sure everyone has a great story to tell at the chicken box, that's all I will say.
682 Photos
Lisa: I love my airport. It's very small, they have a wonderful little restaurant there with Wings memorabilia.
Gaelan: The airport code is ACK, which is the popular nickname for Nantucket. A lot of people choose to fly instead of taking the ferry. It's a beautiful view, you can take a puddle jumper from Hyannis or Boston or jets from New York, DC, etc… Sometimes you can sit next to the captain in the front seat if you're coming on the puddle jumpers. The restaurant at the airport is easy, reliable and one of the more affordable places to eat on Nantucket, it's called Crosswinds.
656 Photos
Lisa: That's a beautiful restaurant on the harbor right in town.
Gaelan: Probably my favorite restaurant, especially when you can sit on the porch on the water a warm summer night. They have amazing farm-to-table dishes, an amazing seafood dish called the SWR clam bake, and an incredible wine selection.
643 Photos
Lisa: Absolutely my favorite place to go on the island. You can go behind beautiful summer cottages once inhabited by the whalers. They'd go there in the 18th century to spot the whales, of course now they're multi-million dollar homes. But it really evokes that time where they did go down to the beach to go get whales, bring it back and harvest the whale. You can feel that from the tiny cottages and footpaths. A little cat could start following you, people will be in their backyards, wheeling and dealing on their patios, so you can hear glimpses of those conversations. Brokering, who's buying what, who's hanging out with whom. people will be having cocktials in their background or cocktail parties, what not it's
Gaelan: It's really neat because you're basically walking in the backyards of these incredible houses with beautiful gardens right along the Sconset Bluff. You can bring your dog, they have to be leashed, and they ask you to be quiet while you're walking along. It's really charming and quaint.
Georgie: I love it. It's really special, and it just feels like another world in itself.
636 Photos
Gaelan: Last year our family spent the most time at the beaches in Miacomet. It's a great local beach on the south shore and a little more private.
Georgie: I feel like Miacomet is underrated. It's one of my favorite beaches to go to.
530 Photos
Lisa: A little more private than jetties beach, but then jetties has a restaurant and bar. Dionis is much more private.
506 Photos
Lisa: I love the Wauwinet. that's another hotel. They have another restaurant that's always named in Wine Spectator's top 25 restaurants for top wine lists in the country. The restaurant is Toppers. Sit out on the lawn, have a cocktail and reminisce.
Gaelan: Gorgeous hotel and restaurant called Topper's on the north east end of the island. Beautiful views, really serene hotel. They ask you to not talk on your cell phone while at the hotel, although I've been there for dinner and Instagrammed my food.
451 Photos
Lisa: Another hotel, they beautifully renovated the hotel/restaurant part. I watched the whole thing happen, they moved it four feet closer to the street, put in an addition. They've spent all this time and money in renovating it. My favorite part is they do wonderful window boxes. They're very creative and wonderful.
Gaelan: Really nice inn in town, they have the best window boxes and they're open year-round. The décor and mood is very different than other restaurants on Nantucket, you feel like you're in NYC.
442 Photos
Gaelan: The Juice Bar always has a line wrapped around the building. It moves really fast, and is definitely worth the wait. I recommend always getting the special flavor. Right now it's strawberry oreo. They make amazing ice cream cakes and pies to order.
Georgie: Having worked there for seven years, it's hands down the best ice cream ever. Totally work the hype and super long lines. The people in there are so lovely and friendly, it's can't miss if you love ice cream.
410 Photos
Lisa: Great family friendly hotel. They have a couple of pools, they have an antique fire engine that they take people out on.
Gaelan: They have a restaurant, pool and gym, it's just on the edge of town.
Georgie: I've heard great things from everyone who's stayed there. The people who run it are really great and care about the community a lot.
352 Photos
Lisa: Absolutely love the whaling museum. A beautiful museum that they've renovated, it's the old candle factory. It really tells you about the island, the way it is, the why it is.
Gaelan: The most visited museum. It's across the street from the Juice Bar. They have a gigantic sperm whale skeleton hanging from the roof. You can learn all about the history of Nantucket as the whaling capital of the world.
Georgie: I think it's a really cool way to experience Nantucket. The perfect rain day activity. It helps put how historic Nantucket is into context.
336 Photos
Lisa: Great place to go for a drink, really creative drinks. real mixologists.
Gaelan: They have really unique tapas-like dishes. It has a really great bar, really fun scene. The food is definitely Instagrammable. It's on a really charming street in town.
325 Photos
Lisa: The Dreamland theater is where we go to see movies, plays, productions. It was a hotel at one time, I believe. It's small and intimate.
Gaelan: It's our movie theater, but they also show the Nantucket Comedy Festival and Nantucket Film Festival. They also have lots of plays and concerts. It's a beautiful theater.
Georgie: Having grown up and gone to the old theater, it's great to see it get resurrected. I'm so glad we have a yearround movie theater and arts space.
290 Photos
Lisa: I don't go there much, but they seem to have unique offerings like cowboy poetry.
Gaelan: ACK coffee. They make the best coffee. Love the owners, Courtney and Jason Bridges. They do a lot for the community.
Georgie: I was a barista there for about a year, it's such a fun, friendly atmosphere. You come from the coffee and stay for the good vibes.
276 Photos
Lisa: That's how we get on and off the island. We love our boat!
Gaelan: One of the two main ferries that you take. I'm not surprised more people tag it… you can take your car on the ferry. There's a slow boat and a fast boat. It's a really amazing feeling driving onto the boat in Hyannis, especially if you haven't been to Nantucket in a long time.
270 Photos
Lisa: An old submarine base that's been transformed into a community. There are homes out there, a little out of the way so the homes are more spread out. You can get more land, and there's a beautiful beach down there. They found some ammunition out there too.
Georgie: That's actually where I live. It's a hidden gem where a lot of locals are.
262 Photos
Lisa: One of my favorite restaurants. Beautiful calamari salad… I'd go there every week if I had time.
Gaelan: Hardest reservation to get. They have amazing Asian inspired dishes. It's a really fun place to go get a drink. They have an amazing duck dish that you have to order when you get there. I'm obsessed with the calamari, and their drinks are really awesome, especially the Porron.
247 Photos
Lisa: I haven't been there, it's a private island, you have to own property. You can walk on the beach and pull a boat on there. People who have stayed at the inn have property out there.
Gaelan:I've never been there so unfortunately I don't have much to say. There's no electricity or plumbing out there and people just have summer houses out there and take their boats back and forth.
Georgie: If you can find someone with a boat to get there, it's a fun day trip. You can go fishing and hang out. Hopefully everyone gets to experience it at least once.
204 Photos
Lisa: A very special place on the island. It's old ceremonial site, there are other rocks up there now that protect "the rock." You can see a 360-degree view of Nantucket up there. You can see why the Native Americans hosted ceremonies up there. It's a really special place, as soon as you get up there you'll find it.
Gaelan: The highest point on the island. It's the closest thing to a "mountain" if you want to go for a little hike. You can get great views of the whole island out there, and it's a great place to go mountain biking.
Georgie: If you're someone who's outdoorsy and goes for hikes, it's as hikey as you can get on Nantucket. It's a good-weather activity for sure.
About our experts
Lisa Dwyer: "I came to Nantucket sight unseen. I answered an ad for a job here. I've spent four years on the island. I'm a history buff, love the beauty of the island, and I love the fact that there are no big box stores, no traffic lights. Truly one of the last beautiful places untouched by neon and billboards. (Note: Lisa is the innkeeper of the Brass Lantern Inn in Nantucket.)
Gaelan Truyman: I came for vacation for a week with my college friends. We rented a house, and ended up going to Nobadeer Beach, which is the most popular beach for that age group. You drive up and park next to other cars. The car we were parked next to was my future husband. It's a very special place for us, and we never thought we'd live here full-time year round. It's amazing and I never want to leave. It's our fourth year being here year-round. (Note: Gaelan is the marketing manager at Fisher Real Estate in Nantucket).
Georgie Morley: I moved here when I was five, I grew up here. I definitely did not want to come back. I ended up coming back a couple of years after college. I ended up really liking the place, I have a new perspective on it now as an adult. It's fun to have grown up somewhere and not really appreciate it until later. I have a wellness blog and podcast that I run. It's more about emotional health and how it's the center of everything. I also do freelance photography on island for local businesses and I help them with their Instagram accounts.