Martha's Vineyard is rich in lobsters, beaches, boats, and Obamas. You can show up, not do any research, and have a great time.
But what are the most popular places that locals and tourists gravitate to? We turned to a year's worth of Instagram geo-tag data to tally up the most popular, iconic locations that people took pictures at to find out.
We didn't count posts by businesses themselves, and we did our best to cover the entire island, including the fair towns of Tisbury, Edgardtown, Oak Bluffs, West Tisbury, Chillmark and Aquinnah. Once we got our list together, we called up three people who know a lot about Martha's Vineyard to get their insider tips and takes on each place.
Our Martha's Vineyard Influencers and Experts
Marnely Murray, Cooking With Books  |  Kristen Gosselin, KG Events & Design  |  Patrick Clarke, Cape Clasps
1. Menemsha Harbor
3490 Photos
Marnely: Basically the best sunsets on the island… people clap, boats honk their horns. People bring their wine and have picnics. If you're here only one night, that's where you should go see something. (Note: Legally you can't bring wine, but people do).
Kristen: We love Menemsha Fish Market. You can get the best oysters and lobster right from the commercial fishermen. It's a big spot for sunsets and seafood.
2. Vineyard Haven Harbor
2394 Photos
Patrick: I tie up there with one of my close buddies who has a sailboat. We rent a mooring there, and you can swim into Vineyard Haven and grab an ice cream at Mad Martha's. The water's pretty deep, so you can dive off the boat. It's a cool place to hang out.
Marnely: It's where the ferry comes in year-round. It's the connection to the mainland for the islanders.
Kristen: The Black Dog is based there, and it's known for the old craft wooden sailboats made by Gannon and Benjamin. It's a busy harbor.
3. Edgartown Harbor Light
2362 Photos
Marnely: One of the five lighthouses on the island. If you're getting married in Edgartown you're getting a photo in front of it. People typically watch the 4th of July fireworks from there.
Kristen: We do a lot of weddings out there. It has a great view of Chappaquiddick Island. It's just a great beach, it's the first thing you see when you come into Edgartown Harbor.
4. Lucy Vincent Beach
1791 Photos
Patrick: It's a private beach during the year so beware of that, but in the off-season the gate's open, and there's all these exposed rock structures. I don't know if they're clay, but there are these huge cliffs and rocks that are a cool feature that I've never seen anywhere else.
Marnely: I've never been to this very popular beach. There's a nude beach, but it's for residents only and you have to have a sticker on your car during the summer.
5. South Beach State Park
980 Photos
Patrick: South Beach and Norton Point are basically the same thing, it's a place where if you have a permit, you can drive out on the beach, bring a cooler and enjoy the weather for the day. If you go all the way out on Norton Point there's a beach cut that used to get out to Chappaquidick, but sometimes there's too much sand or no connecting piece. It's a cool place. You can drive around and enjoy it and it feels kind of lawless. You feel like you're having some all-American fun for sure.
Kristen: The whole south-facing side of the island has great beaches. It's like one continuous beach. The Katama General Store is nearby, and you can take a biplane ride. Part of South Beach is Norton Point, where you can drive out onto the beach.
6. Ocean Park, Oak Bluffs, Martha's Vineyard
973 Photos
Patrick: It's across the street from the gingerbread houses. I love that little area, it's got a bit more of a commercial vibe, but it's got so much character and charm. It's got a fountain shaped like a whale, exactly what you'd expect from MV.
Marnely: It's a very family-friendly place. For Christmas they do a really big lighting of trees and cute christmas lights.
7. Lake Tashmoo
898 Photos
Patrick: If you're boating around there, there's a place called Middle Ground that's across from Lake Tashmoo. There's a rift where the water goes from 100 feet to 10 feet. We go fishing there in the summer.
8. Harbor View Hotel
797 Photos
Marnely: That's where I got married. We had a 10-person wedding in the hotel lobby because it was too cold in November to be outside. We got married in front of the fireplace, and there was a guy reading the paper who would not move, so we just kept going.
Kristen: The Harbor View is great, iconic, maybe the oldest hotel on MV, and a great resort. We do a lot of weddings there as well. It looks out onto the Edgartown Lighthouse. They do a lot of community events, and it's probably the biggest establishment in town for people to go and meet.
9. Martha's Vineyard Ag Fair
683 Photos
Marnely: Oh my gosh. I live for the Ag Fair. It's in the end of August. I live for the funnel cakes, the burgers, the barbecue, pulled pork, cole slaw, best fair food ever.
Kristen: The Ag Fair started off before MV was known for tourism. There are still some 40-odd farms, it's still an agricultural island. The fair celebrates the classic livestock, it's like an old county fair, and they have games, rides and all that stuff.
10. The Black Dog Tavern
623 Photos
Marnely: One of the two only waterfront restaurants in Vineyard Haven. It's been there for decades. It's known around the island and everywhere else. They have really good crabcake sandwiches and chowder.
Patrick: Kind of an authentic, cool staple and a great place to grab brunch.
11. Morning Glory Farm
598 Photos
Marnely: It's owned by the Athearn family, they've been here for decades. Tourists visit for the zucchini bread, but you also run will into chefs picking up produce. They host a great strawberry festival in the summer.
12. Seafood Shanty
550 Photos
Patrick: It's a surprisingly awesome nightlife spot. I know there's been a couple times where we've spent a late night at the Shanty and then we swim back to Chappy.
Marnely: Largest lobster roll on the island. You can sit outside on the outdoor deck, and watch the Chappy Ferry come and go, it's vacation.
13. Martha's Vineyard Airport
461 Photos
Marnely: The tiniest airport in the world. You can get there 30 minutes before the plane takes off. It's a good place to spot celebrities, I saw Bill Murray there once.
Patrick: I've actually been there once. It's really a cool, tiny airstrip where you can have breakfast and there's some kind of Airline Diner right there.
14. Joseph Sylvia State Beach Park
454 Photos
Kristen: I love State Beach. It connects two towns, Edgartown and Oak Bluffs, and I like paddleboarding there. It's really flat and the water's really blue.
Marnely: The Jaws Bridge is like a rite of passage. People jump off the bridge, and there's a huge sign that says no jumping. I have never jumped personally, but my husband has.
Patrick: I just do it [the Jaws Bridge] when I see other people doing it. Always a great place to cool off on a long bike ride. Pull over, jump into the water.
15. Great Rock Bight
442 Photos
16. East Chop Light
414 Photos
Kristen: East Chop is great, it overlooks the Elizabeth Island, and is another great sunset spot. We also do a lot of weddings there.
17. Back Door Donuts
380 Photos
Marnely: Oh my gosh. Best donuts. after 7 p.m. to 12:59 am, warm donuts come out of there. It's the backdoor of the bakery. The apple fritters are the size of your head.
Kristen: It's an iconic spot. They have a bakery that opens up late at night, and they sell donuts out of the backdoor.
18. Chappy Ferry
365 Photos
Patrick: That's a fun one. If you go back on my Instagram, about 3 years ago, when it was a more novel thing to do, we were in a bug convertible going over the Chappy Ferry and I flew my drone out of the convertible top and drove it home with us. It's a cool experience to go over there. Another spot where you feel like a frontiersman in the middle of nowhere doing something super cool. Every time I've been over there it's been because there's a friend or something where circumstances are right, and you just feel thankful.
Marnely: It was once owned by a blind man. It's the oldest ongoing business on the island, I believe.
19. Flying Horses Carousel
361 Photos
Marnely: Oldest carousel in America, it has been brought over to Oak Bluffs. They do this thing where if you get the brass ring, you get a free ride. It's fun for everyone, I still do it every summer.
Patrick: That's a cool spot. There's a famous song from Dispatch that talks about it. I thought it was so cool they were singing about that carousel. As a kid that's where my parents would take us. We'd ride the flying horses, and you're supposed to catch a ring with your finger, if you get the gold ring you get a free ride or tokens or something. I was always terrified to do it and my brother always got the ring and I was pissed.
20. Martha's Vineyard Shipyard
352 Photos
21. Sengekontacket Pond
350 Photos
Kristen: Sengie is on the other side of the State Beach. Same thing, it's a good place, a lot of people go there, you can fish your own oysters, and people who live here can get resident permits. It's a good place for boating, paddleboarding, kayaking and kite-surfing.
22. Long Point Wildlife Refuge
335 Photos
23. Menemsha Hills
335 Photos
Patrick: Such a cool spot. There's an outlook there with a little cliff built into the beach. It's an amazing view.
24. Gingerbread Houses
312 Photos
Marnely: It used to be a Methodist campground. There are little tiny gingerbread houses, and people wonder why are so they small. They just built the houses exactly the size of the tents that were once there.
25. Larsen's Fish Market
309 Photos
Marnely: Amazing lobster rolls, and incredible lobster bisque. The three main fish markets on the island are all owned by brothers.
Kristen: I always go to Menemsha fish market, but they're essentially the same family.
26. Edgartown Yacht Club
303 Photos
Marnely: Private club, it's on the water, a lot of weddings happen there. Their chef is really good.
27. Cedar Tree Neck Sanctuary
301 Photos
Editor note: Nobody seemed to have much to say about the Sanctuary, but one recent development was that the conservation foundation Sheriff's Meadow recently opened a second access point for the Sanctuary via the Taylor Gate trailhead.
28. Lookout Tavern
299 Photos
Marnely: When that place opens, people freak out. It's not on the water, but it has water views of OB harbor. They do really good sushi, and it's a very local crowd and fun environment.
29. Martha's Vineyard Regional High School
294 Photos
Marnely: The only high school on the island. They have a culinary department, I know that.
30. The Ritz Martha's Vineyard
265 Photos
Marnely: It's one the diviest, diviest bars on the island. They were bought 3-4 years ago by these people from Texas who are like locals now. They've changed up the food, and have had some success with blue plate specials. Really good late night music too.
31. The Beach Plum Inn & Restaurant
253 Photos
Marnely: It's pretty, up-island, and very farm-to-table. It's connected to an inn. They don't typically do dinner service, but do a lot of pop up dinners. The view from that place is incredible, you're overlooking water and the harbor.
32. Edgartown Great Pond
250 Photos
Kristen: It's an extension of Edgartown Harbor, and there's a lot of shellfishing going on there.
33. State Road
233 Photos
Marnely: Cool restaurant, they have their own garden in the back, and the people have owned it for years.
34. Katama South Beach
226 Photos
Marnely: One of the most popular beaches, if people are in Edgartown or OB, it's a good family beach.
35. The FARM Institute
225 Photos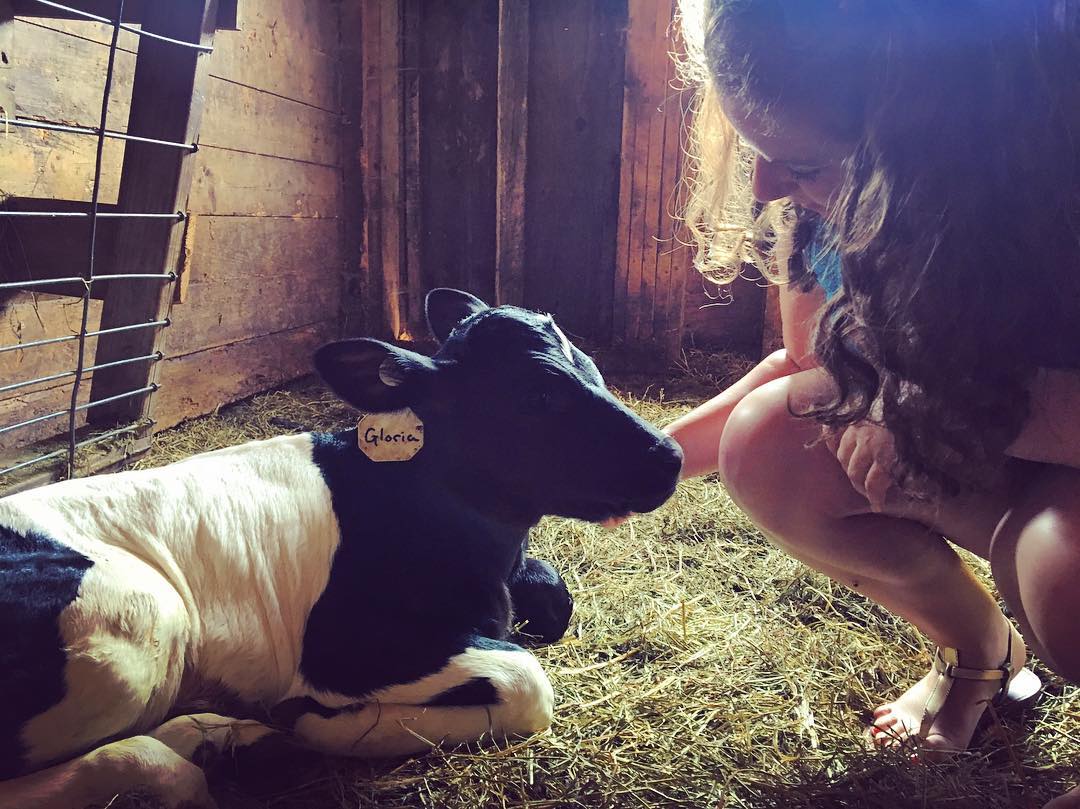 Marnely: It's a local farm, they're big on summer camps for inner city kids, and they have their own livestock and chickens. They sell produce and their own meats. They're very nice people, and do do an event called Meals in the Meadow where you get to ride different animals, and there are goats you can pet.
36. Martha's Vineyard Ice Arena
221 Photos
Marnely: There's a local hockey team, and they they also do ice stroller mom events.
37. The Wharf Pub
211 Photos
Patrick: The bar is awesome… rustic, all wood, it just really feels like you're on the Vineyard. The food is good too.
Marnely: Another really divey bar in Edgartown. My favorite place for stuffed quahogs.
Kristen: Most of the time it's a dive, and they have good music and performances. They have good summer parties with different themes throughout the summer.
38. Eastville Beach
210 Photos
Kristen: Another good spot for a sunset. It's over in oak bluffs, you get the sunset over Vineyard Haven. It's a rocky little beach.
39. Offshore Ale
209 Photos
Marnely: One of the two breweries on island. Very good beers. It's a full restaurant, you can get brewery tours, they're open for lunch and dinner, and they have a mashed potato pizza that's fantastic.
Kristen: It's a great spot, they're a brewery, they make their own beer, they have really good food. Kind of a classic pub, they give you peanuts and you can throw the shells on the floor, that kind of place.
About our Martha's Vineyard Influencers:
Marnely: I am originally from the Dominican Republic, and I went to the Culinary Institute of America in Hyde Park, NY. I went to a career fair, and there were these chefs who suggested to come work on the Vineyard. As an international student, I got a work visa, came here, met my husband, fell in love, got married, and I've been here for 8 years since 2010. I work at Vineyard Golf Club in Edgartown, one of America's only organic golf courses. I work with my husband in the kitchen as well. Food is my life, so I created a food blog called Cooking With Books, and I do food focused travel guides and recipes. I'm also the social media director for Edgartown, and a partner and I started Shored Up Digital. We do social media and digital marketing for island brands.
---
Kristen: Our offices are based in Edgartown. I've owned the business for five years, been here for six years. A job offer brought me to the island from Southern California.
---
Patrick: I grew up spending all my time on the Cape. After college, I got a job in Boston and fell in love with the Instagram platform, showing people what I love about being down there, and I had the idea of hiding geo-caches in my favorite places on the cape. I thought it would be cool to leave a product in there or some kind of keepsake. We made a bracelet about Cape Cod, left them in the geocaches, and shops starting saying that they'd love to carry that bracelet. I saw the business opportunity, we started a non-profit business model and the last five years have been an interactive exercise on that same principle. Our house is a five second walk to the Steamship Authority that takes you to Martha's Vineyard. It's a pretty easy trip for us and we do it alot in the off-season. It's not as busy and you can get around pretty easily and get to see all the sights.
It's not in New England, but we also have a Most-Instagrammed article like this about Santorini!